Description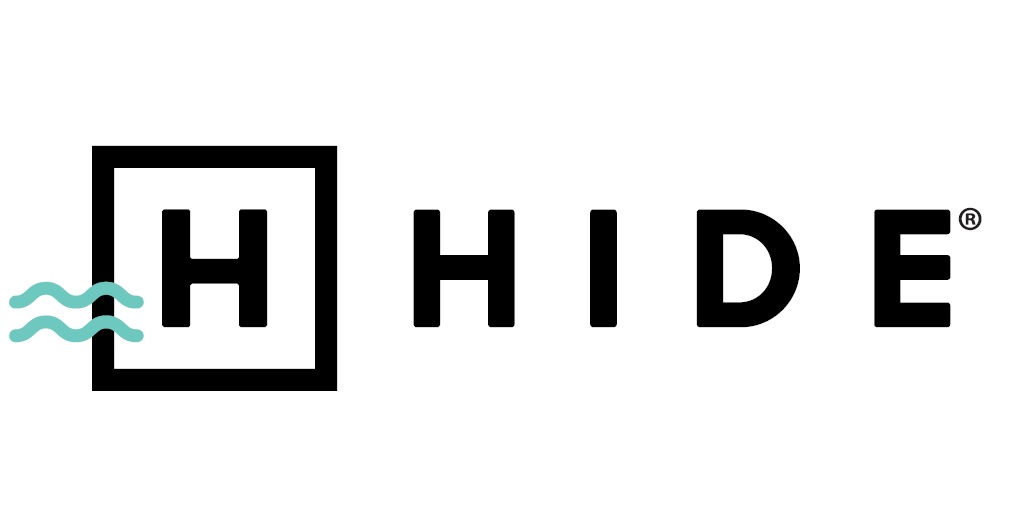 Hide Skimmer Lid Kits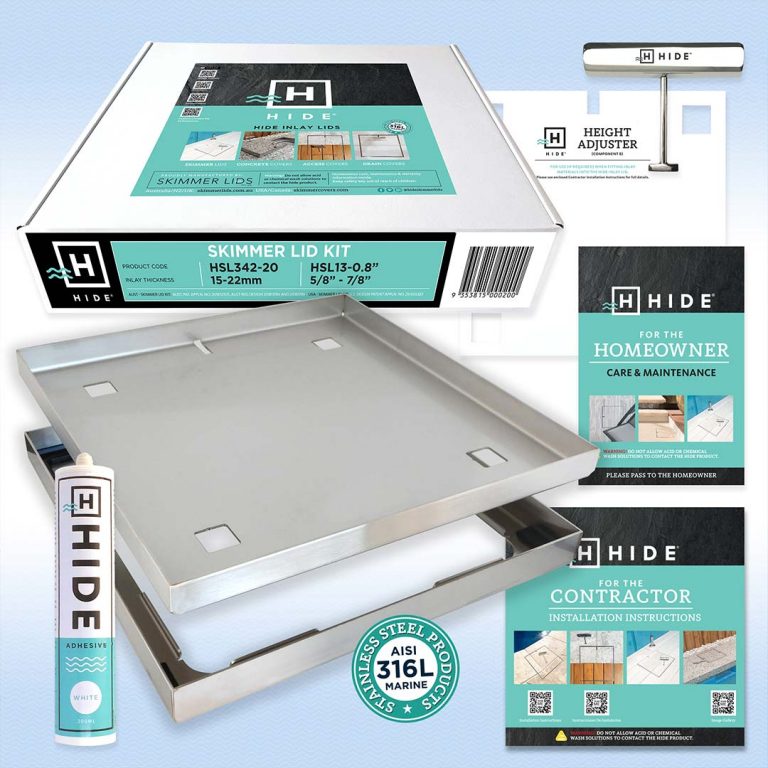 HIDE's innovative lids for skimmer boxes & access covers are available in a range of sizes to suit most applications where a sophisticated upmarket finish is required. HIDE skimmer lids are designed to carry your selection of tiles, composite decking, timber or concrete to match the surrounds, creating a luxurious, uninterrupted outdoor space.
HIDE lids are readily installed in new poolscapes or when refurbishing existing landscapes. The design allows for easy and affordable installation, on-site by a contractor.
Every kit contains all the components for a no-fuss assembly, resulting in the homeowner having a safe and seamless finish.
HIDE Skimmer Lids available in 306mm square and 342mm Square (View 306mm product here) and at a  range of depths to suit most applications. Additionally, any HIDE Skimmer Lids may also be used as a HIDE Access Cover or to cover the auto-fill.
316L Stainless Steel
Select your Inlay to suit
Available in range of depths
New or Existing Pools
On-Site Inlay Installation
Flush Finish
Australian Pool Safety Complaint
342mm HIDE Skimmer Lid Kits available to suit inlay material thickness:
8 – 11mm
12 – 16mm
15 – 22mm
25 – 32mm
35 – 42mm
45 – 52mm
HIDE Skimmer Lid Kits Include:
A stainless steel tool to enable the installed HIDE Lid to be safely and easily opened or closed.
Used only when additional height is required. Provides 2mm extra height if inlay material is not thick enough to achieve a flush finish with the top of the inlay lid.
A stainless steel tray which holds the inlay (landscape) materials you have chosen eg: tile, paver, concrete, timber decking, composite decking etc.
A stainless steel frame inserted into a recess within the landscaped area. It protects the coping/surrounds from chipping or breaking when the inlay lid is opened or closed.
A one-part adhesive specifically developed for long-term fitting of natural stone and porcelain tiles into the HIDE Inlay series.
Each Kit includes the contractor installation instructions, home owner information and warranty.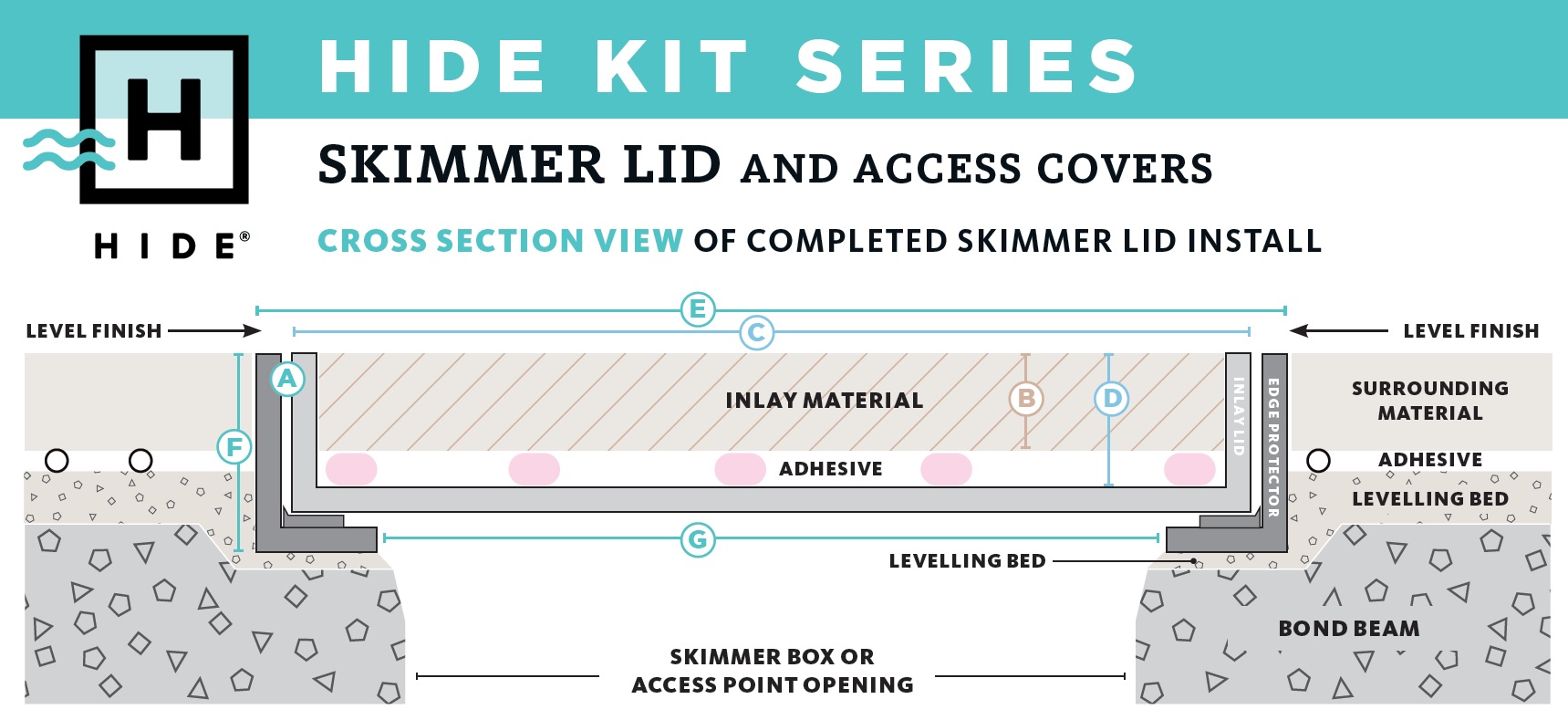 HIDE Products Care and Maintenance 
It's a good idea to regularly open your HIDE product and check for and remove any leaf-litter or debris which may have gathered inside the HIDE Edge Protector.  If not removed, the debris may cause the HIDE lid to become loose or to sit unevenly.
Check regularly to ensure the HIDE product is fitting well, and is sitting evenly in its recessed area.
REMOVING "TEA STAINING"
HIDE components are made of 316L marine-grade stainless steel. Although this is a very high-grade external product, it is normal for visible surface "browning" to occur (known as 'Tea-staining').
It should not be confused with rust; it is a cosmetic discolouration on the surface of the stainless steel, from foreign objects. Simply clean regularly and carefully remove 'Tea-staining' as soon as it's noticed with a nylon scouring pad.
Typically the tea-staining will form on the underside of the HIDE lid where residues and salt deposits gather. To clean, all you need is a stainless steel scourer, soapy water and a little elbow grease. Just be sure to use the scourer parallel to the grain direction of the HIDE lid. Rinse thoroughly with fresh water when done.
Please be aware that if the surface staining is allowed to build up over time, it may leach onto the HIDE lid inlay or surrounding paving.  This is not a fault of the lid and is completely avoidable with occasional cleaning, as mentioned above.  If allowed to occur over a prolonged period, the leaching may not be able to be removed.
Simply wipe clean your stainless steel lid with soapy water each time you empty the skimmer basket.
******WARNING! DO NOT ALLOW ACID OR CHEMICAL WASH SOLUTIONS TO CONTACT THE HIDE PRODUCT. IT WILL VOID YOUR WARRANTY.
Pool owners may look at professional acid washing if their pool suffers from algae build-up and water discolouration. Similarly, homeowners may look to clean their outdoor pavers or tiles with a chemical wash. If embarking on either option, please be aware that the HIDE lid should not come into contact with any acid or chemical washing solutions. This is one of the main causes of damage to a HIDE product, and it is not covered by your warranty.
Chemical contact with most pool and paving cleaning solutions will rapidly affect the surface finish of the stainless steel HIDE components. This contact will damage the lid inlay and potentially the structural integrity of the HIDE lid itself. Alternatives are available in the form of "Green Acid Replacement."